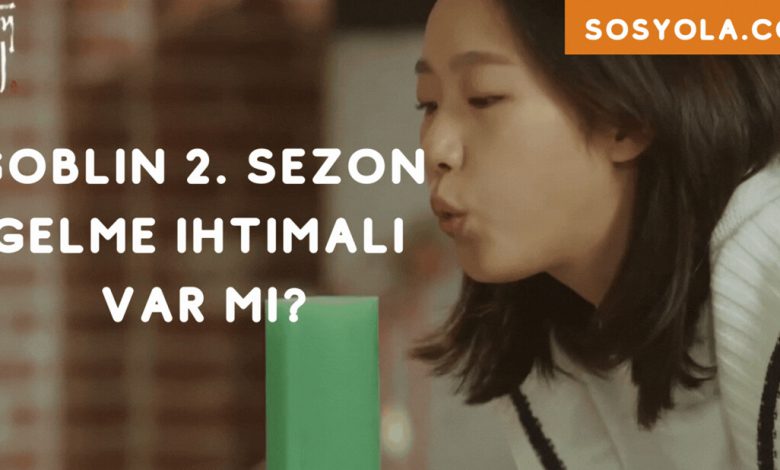 Dizi Önerileri
Goblin Dizisi 2. sezon onayı aldı mı? Ne zaman yayınlanacak? Goblin dizisi 2.sezona ait tüm ayrıntılar
Goblin Dizisi Ne Zaman Yayınlanacak?
Goblin Dizisi 2. Sezon: Yeni bölüm gösterim tarihi, oyuncuları Goblin dizisi 2.sezona ait tüm ayrıntıları yazımızda sizler için derledik. Goblin 2. sezon onayı aldı mı?  Kimsenin duymadığı bilgileri paylaşacağız.
Goblin Dizisinin Konusu
Goblin' karakteri bizi ruhları korumakla görevlendirilen bir goblin olan Kim Shin karakteri ile tanıştırarak başlar. Ölüm meleği ile aynı evi paylaşan Kim Shin ölümsüzlüğünden artık bıkmıştır. Sonuç olarak da Goblin ölümsüz hayatını sona erdirme gücüne sahip insan gelinini bulmak amacıyla bir yolculuğa çıkar.
Ji Eun-Tak (Kim Shin'in gelini ) lisede okuyan bir öğrencidir ve her gün karşılaşmış olduğu zorluklara rağmen iyimser olmaya devam etmektedir. Goblin karai kısa süre içerisinde onunla karşılaşacak yavaş yavaş aşık olmaya başlar. Sunny karakteri ise ölüm meleğine aşık olur. Bu dört farklı karakter bir araya gelerek öngörülemeyen durumlarla karşılaşacak hayatlarını farklı yönlere yöneltirler.
Goblin 2. Sezon Çıkış Tarihi ve Goblin 2. Sezon onayı aldı mı?
'Goblin' dizisinin 1. Sezonu 2 Aralık 2016 tarihinde Kore ülkesinde tVN'de gösterime girmişti. 16 bölümün ardından 21 Ocak 2017 tarihinde final vererek sona erdi. Asya ülkeleri dışında da yoğun ilgi gören , dizi DramaFever'da ve de Wiki altyazılı olarak birçok platformda yayınlandı.
Goblin 2. Sezon onayı aldı mı?
Bu söylentiler dizi hayranlarını 'Goblin' dizisi 2.sezon için umutlanma yoluna itse de ne yazık ki, 'Guardian: The Lonely and Great God' yani kısa adıyla Goblin 2. Sezon onayı aldı mı? Sorusuna Goblin dizisinin 2.sezonunu olmayacağı şimdiden yapım şirketi tarafından onaylandı. Yani Goblin 2. Sezon onayı alamadı ! Baş aktör Gong Yoo'nun 2017 yılında yayınladığı tweet'ine göre, dizi için "2. Sezon olmayacağını söylemek üzücü" ifadelerini kullandı. Ve şöyle devam etti "Bazı hikayelerin olduğu şekilde bitmesi her zaman daha iyidir."
Goblin 2. Sezon çıkış tarihi ?
Goblin 2. Sezon çıkış tarihi ?  Ekrana sürüldükten sonra, "Goblin" dizisi bir mega hit Kore draması haline geldi. Benzersiz ve bir o kadar çarpıcı bir hikayeyle, büyük kitleli bir televizyon izleyici puanlarını toplayarak final bölümü, ülke çapında % 18,68 reyting izleyici payına sahip olarak büyük bir başarı elde etti. Uluslararası düzeyde hayranları arasında da popülerlik kazanana bu dizi, sosyal medya platformları üzerinde çoklu parodi versiyonlarını beraberinde getirdi. Hatta başrol oyuncuları tarafından giyilen tüm eşya ve aksesuarlar satışa sunularak satın alınan hayranlar tarafından bir moda devrimi başlatıldı.
Tüm bu Goblin dizisi çılgınlığına rağmen "Goblin" dizisinin, en başarılı K-dramalarından biri olması taraftarlar tarafından başka bir sezonun devam edip etmeyeceği konusu tartışılıyor. Aslında Goblin izleyicileri, Gong Yoo dizinin finali ile ilgili görüşlerini ifade ettiğinde bir dönemde senaryonun yenilemenin kesin olduğundan neredeyse emindi. Fakat konuyla ilgili bilgiler henüz gelmedi. Dramanın devam edeceğini sanan oyuncular artık konuyla ilgili oldukça endişeli.
Goblin 2. Sezon gelme ihtimali var mı?
Sosyola.com ekibi olarak 13 bin kişinin oy verdiği ve imbd puanı   8,6 olan goblin yani Guardian: The Lonely and Great God dizisi 2. sezon gelme ihtimali var mı?
Pandemi dönemi baz alındığında ve dizinin oyuncularının çoğunun artık istememesinden dolayı ve senaristin başka dizilere yönelmesinden dolayı artık Guardian: The Lonely and Great God 2. sezon gelmeyecek ! Böyle bir ihtimal bile söz konusu değildir.
İlginizi Çekebilir: The Witcher 2. Sezon onayı aldı mı?