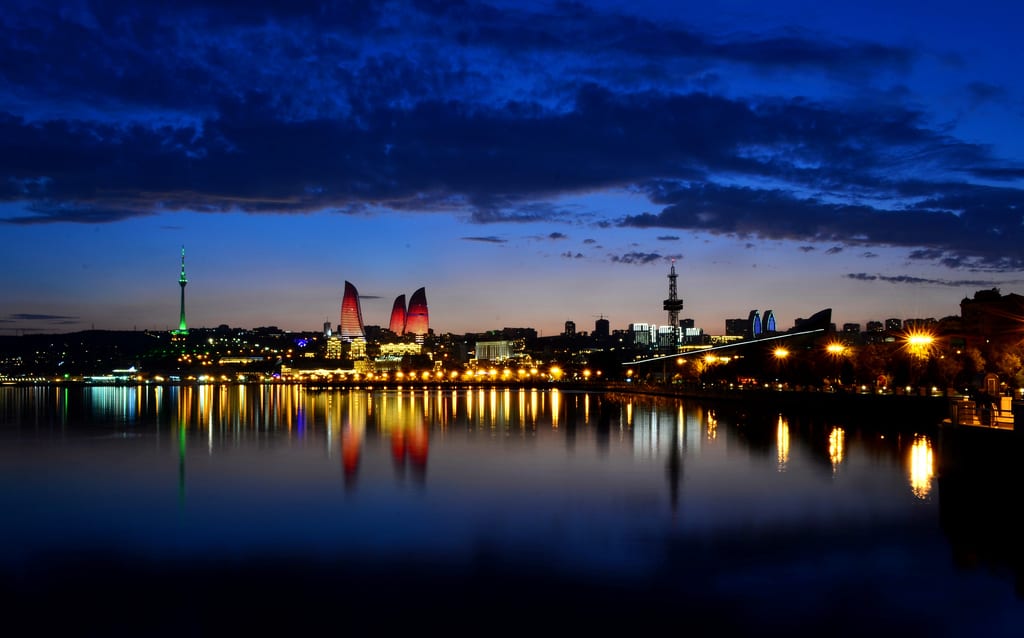 Son 10 yılda Bakü'de yaşanan şaşırtıcı değişim Bakü'yü adeta Kafkasların Dubai'si, İsviçre'si haline getirdi. Petrol ve Doğal Gaz zengini olan Azerbaycan'ın Başkenti Bakü için bir marka şehir de diyebiliriz.
Azerbaycan'ın Başkenti Bakü, Kafkasların en önemli ve en büyük şehirlerinden biri. Hazar Denizi kıyısında yer alan Bakü adeta bir Avrupa başkentine benziyor. Kardeş ülke olarak bilinen Azerbaycan'ı yakından tanımak isteyenler için Bakü en doğru karar..
Kafkaslarda en gelişmiş ülke olan Azerbaycan birçok şehri ile ön plana çıkıyor ve elbette başkent Bakü Kafkasların en gözde şehri diyebiliriz. Gecesi ışıltısıyla sizleri büyüleyip, gündüzü ile hayranlık yaşatacak şehir Bakü bir tablo gibi. Yani lafın kısası Bakü'ye hayran kalacaksınız.
Yeni Bakü'de bir yandan cam kuleler, dev gökdelenler yükselirken diğer yanda Klasik ve Modern mimarisiyle dikkat çekiyor. Geniş bulvarları ve parklarıyla ışıl ışıl parlayan Bakü, zengin bir kültürel mirasa ve doğal güzelliklere sahip. Azerbaycan'a gelen turist sayısı da her gecen yıl artıyor. Azerbaycan Turizmi hızla gelişmekte olup, Bakü'de dünyanın en büyük otel zincirleri yerini almış ve yakın çevresindeki tatil bölgelerinde birbirinden şahane oteller bulunmaktadır.
Bakü'de Hazar Denizinin kıyısında Kordon boyu muhteşem bir şehir parkı olan Bulvar kilometrelerce uzayıp gidiyor. Şehrin adeta akciğeri olan bu parkın içinde yürüme parkurları, eğlence ve dinlenme mekânları, kafeler yer alıyor. İzmir'deki Kordon boyunu andıran Bakü Şehir parkı Bakülülerin vazgeçilmezi. Geceleri ayrı bir güzelliğe bürünen başkent Bakü tarihi taş binaların gece aydınlatmalarıyla büyüleyici olup, lazer ışıkları ve fıskiyeleri ile de görülmeye değer…
Kültür –Sanat Şehri olarak da bilinen Bakü, zengin halk kültürünün yanı sıra modern sanatlarında zirvede yaşandığı bir şehir. Opera, bale, tiyatro salonlarıyla da dikkat çekiyor.
Bakü Hazar Denizinin batı kıyısında yer alan Kafkasların en gelişmiş kültür ve ticaret merkezi. 2006 yılında faaliyete gecen Bakü-Tiflis Ceyhan Boru Hattı kentin önemini daha da artırdı. Azerbaycan nüfusunun üçte biri Bakü'de yaşıyor. Ancak bu kalabalığa rağmen yolların genişliğinden olsa gerek trafik problemi yaşanmıyor.
Azerbaycan hakkında genel bilgiler
Azerbaycan hakkında genel bilgiye sahip olduğunuzu düşünebilirsiniz fakat nihayetinde eksik olduğumuz konular da vardır diye size ön bir bilgi verelim istedik.
Azerbaycan Cumhuriyeti'nin Başkenti Bakü'dür. Bakü Haydar Aliyev Uluslararası Havaalanını kullanarak İstanbul'dan Bakü'ye direk uçabilirsiniz. Azerbaycan para birimi Manat'tır. Manat Türk lirasından değerlidir. Euro ile neredeyse aynı diyebiliriz. Bu sebeple alışverişleriniz tuzlu olabilir. Resmi dili Azericedir fakat Türkçe, Rusça da konuşulmaktadır. Azerbaycan devletinin kabul ettiği resmi dini de İslam'dır. Azerbaycan'ın en büyük şehirleri Bakü, Gence, Sumgayıt, Lenkeran, Nahçivan, Şeki vb.
Size bu kadar ön bilgi verdikten sonra Azerbaycan'a gelecekseniz nerelere gidebilirsiniz? Nerede konaklayabilirsiniz? Nerelerde yemek yiyebilirsiniz? Bunlardan da bahsedelim…
Bakü'de gezilecek yerler
Bulvar (Baku Boulevard): Bakü'nün kalbi diyebiliriz. 2km uzunluğundaki bu bulvar, Devlet Bayrak Meydanı'na kadar ilerliyor. Bakü'nün en işlek yerlerinden biri. Özellikle otellerin merkezi burada, konaklamak için Bakü'ye geldiğinizde oteliniz muhtemelen bu civarda olacak.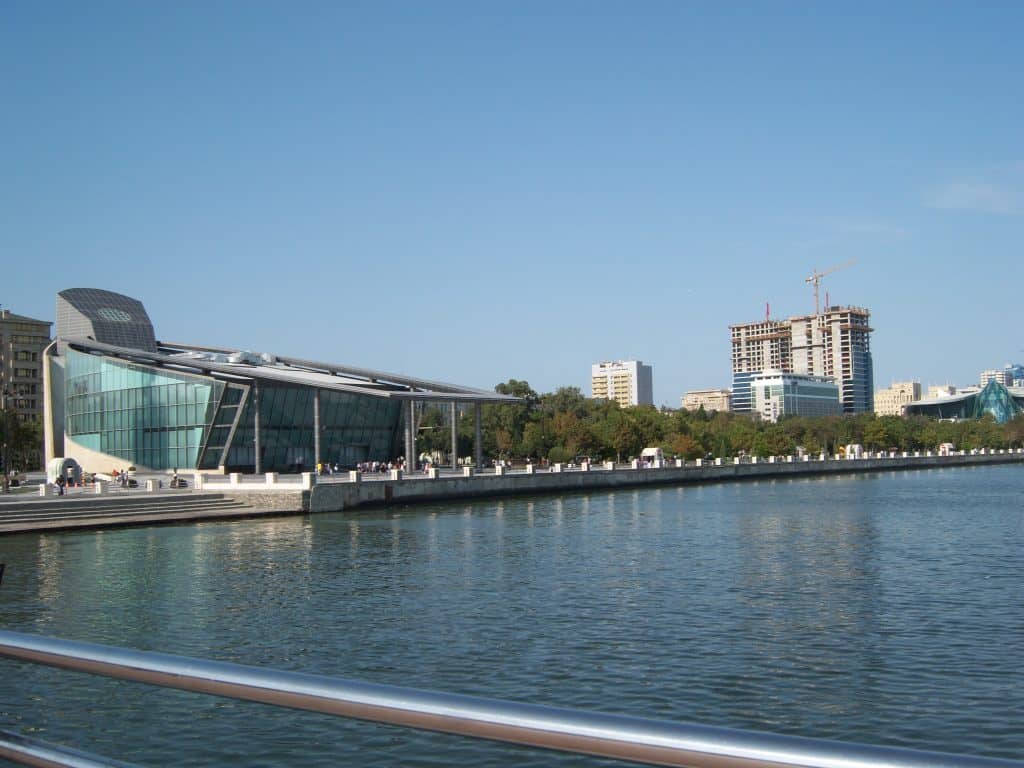 Kız Kalesi (Maiden Tower): İçeri şehir 'in en eski eseri ise Kız Kalesi. Bu tarihi yapı Bakü'nün en önemli sembollerinden biri. Tahmini 2800 yaşında olan Bu tarihi yapının en üst zirvesine ulaştığınızda 360 derece panoramik bir Bakü manzarası karşınıza çıkıyor.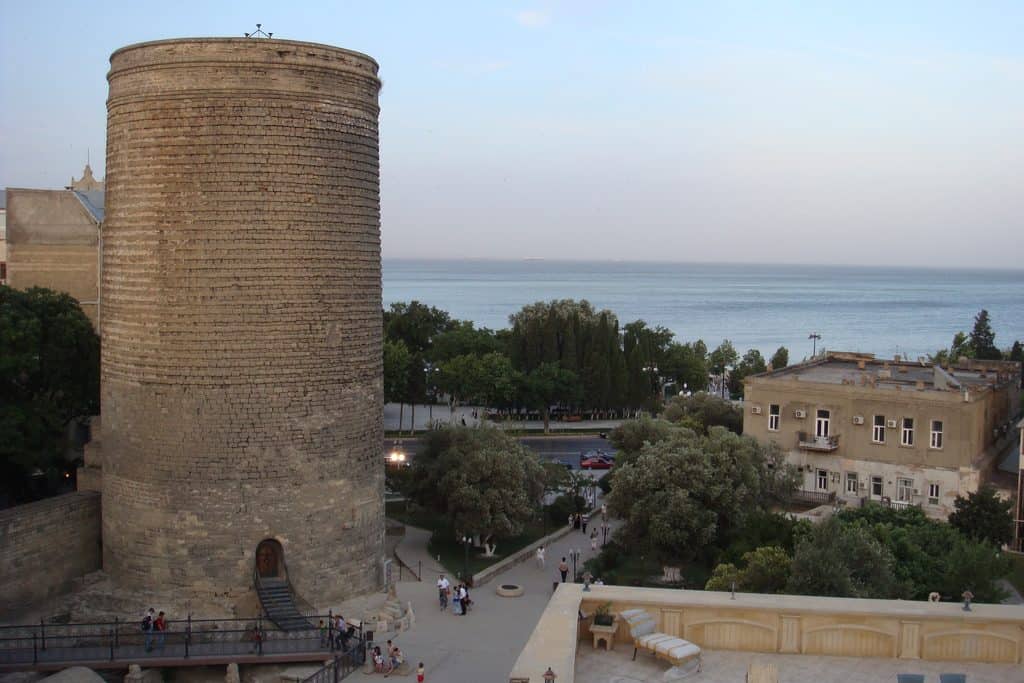 Şirvanşahlar Sarayı (palace of the Shirvanshahs):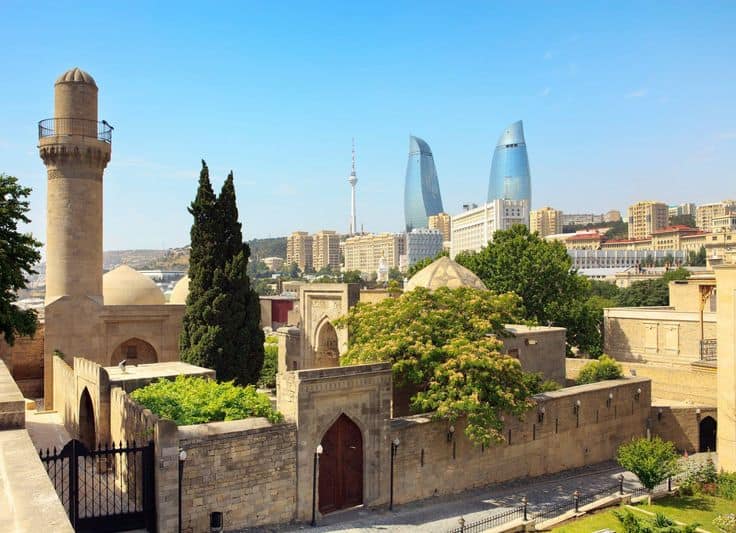 Kristal Saray: 2012 Eurovision yarışmasının yapıldığı Kristal Saray muhteşem görkemiyle yine hazar denizinin kıyısında yer alıyor. Kristal Saray şimdide dünyaca ünlü birçok sanatçının konserlerine ev sahipliği yapıyor. Kristal Saraydan geceleri gökyüzüne doğru yükselen lazer ışınları olağanüstü bir görüntü oluşturuyor.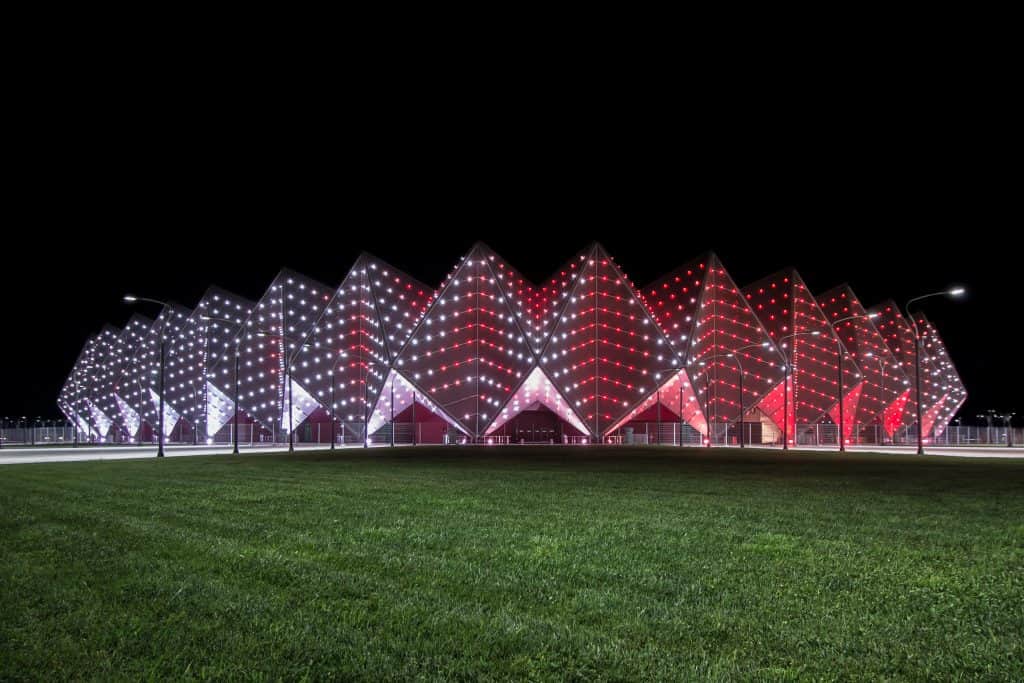 Şehitlik (Martyrs Lane): Azerbaycan Bakü'de bulunan şehitlik 1918 yılında Azeri ve Türk şehitler için yapılmıştır. Günümüzde hala protokol karşılamalarında kullanılmaktadır.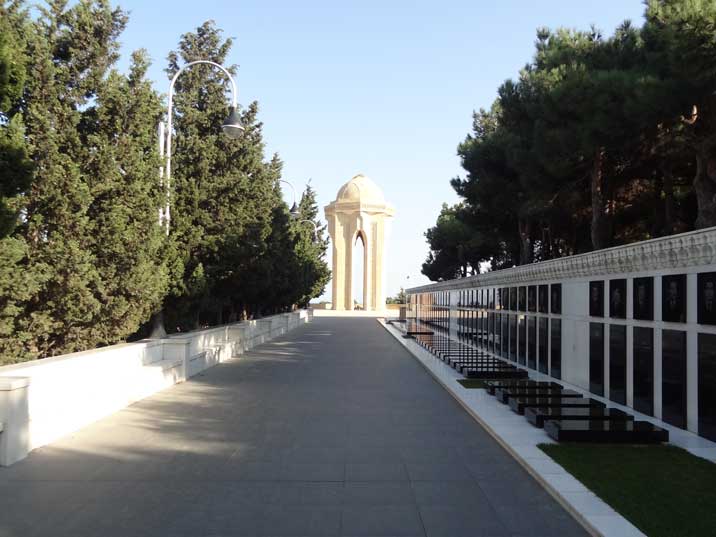 Halı Müzesi (Carpet Museum): Azerbaycan Bakü'de açılan Halı Müzesi dünyanın ilk halı müzesidir. Birbirinden farklı motiflerle işlenmiş özellikle 19.yy halılarının sergilendiği ilginç bir müze. Binanın tasarımı da içeriğine uygun olarak tasarlanmış. Üstteki fotoğrafı incelediğinizde sarılmış bir halı şeklinde tasarlandığını göreceksiniz. Azerbaycan 17. ve 18. yy'da halıcılık için okullar açmış ve çeşitli bölgelerde halıcılığın yaygınlaşması sağlanmıştır. Bu yüzden Azerbaycan'da Halıcılık önemli bir yerdedir.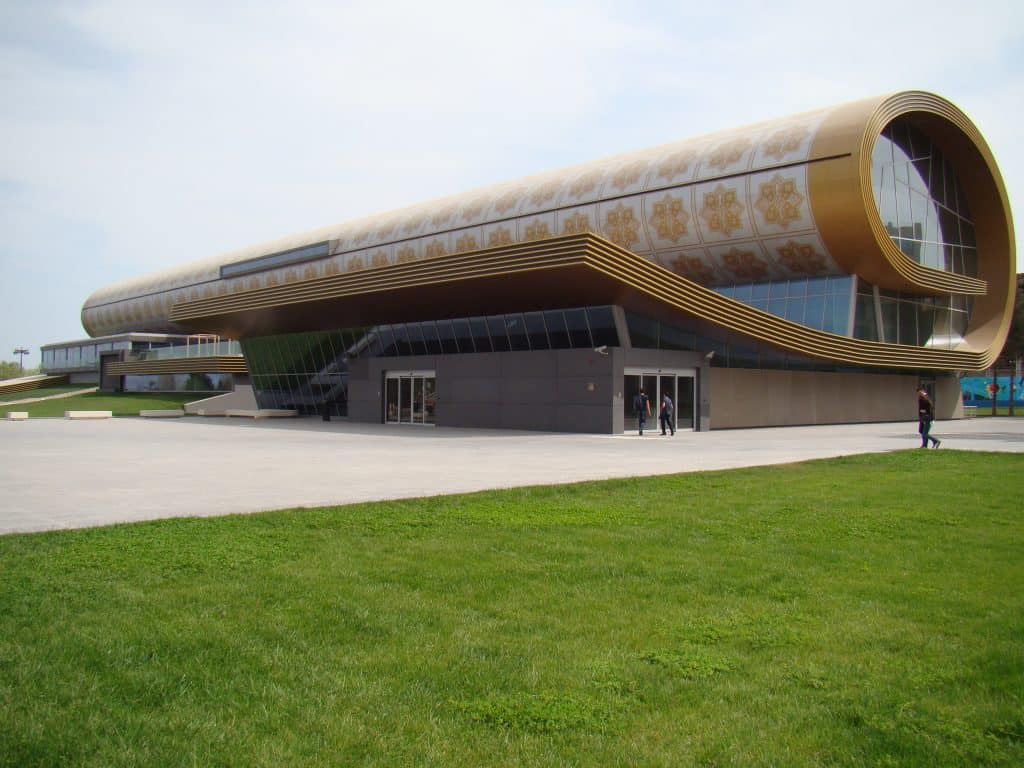 TARGOVI Caddesi: Bakü'nün en ünlü caddesi TARGOVI, Dünyaca ünlü markaların yer aldığı gezdikçe zevk alacağınız bir cadde. Caddede gezerken muazzam bir titizlikle işlenmiş mimarisi dikkatinizi çekiyor. Trafiğe kapalı alan olması sebebiyle de ciddi bir sosyal yaşam alanına dönüşmüş. İlk bakışta İstiklal Caddesi, Taksim'i andıran bir görüntüsü var fakat burada sistem daha oturmuş görünüyor.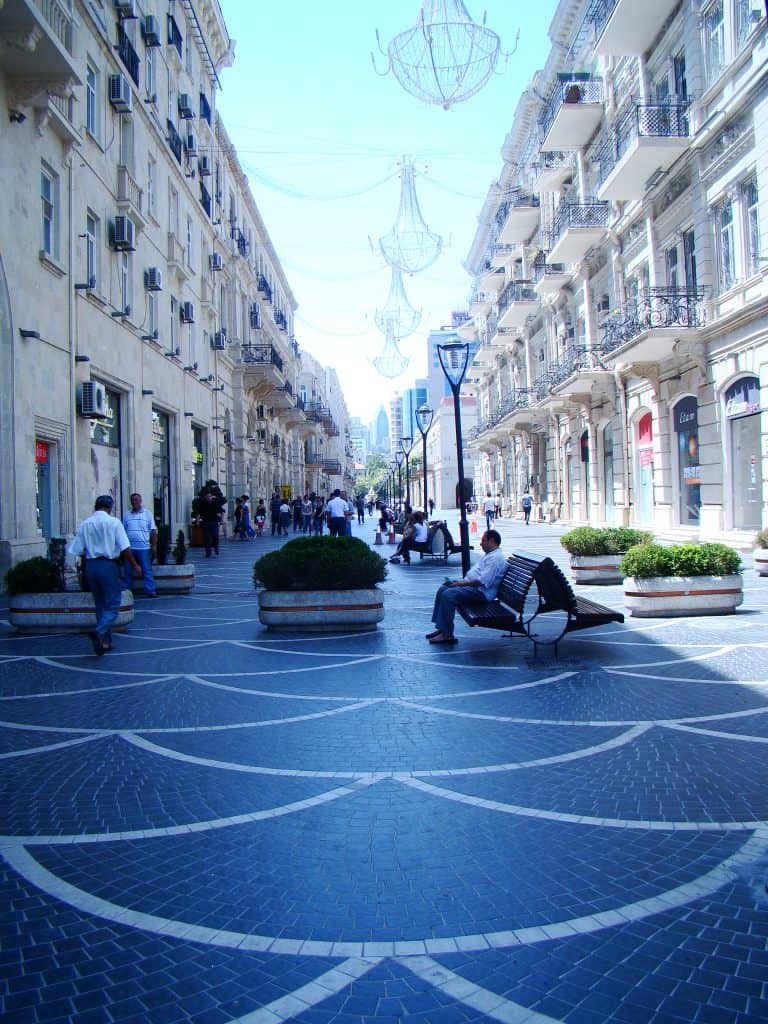 İçeri Şehir (Old City Baku): Arnavut kaldırımlı sokakları, tarihi binaları, Şirvan şahlar Sarayı ve Kız Kalesi ile Bakü'nün en önemli turistik yeri olan İçeri Şehir UNESCO tarafından "Dünya Miras Listesi" içinde yer alıyor. İçeri Şehrin 10 bin yıllık tarihi geçmişi var. İçeri Şehirde tarihi kervansaraylar da yer alıyor. Bunlardan biri 700 yıllık geçmişi olan Buhara Kervansarayı. Tarihi İpek Yolu güzergâhında yer alan Kervansaray o dönemin tüccarlarının konakladığı bir mekân. Orijinal yapısını koruyan bu tarihi tesis şimdi turistik amaçla kullanılmaktadır.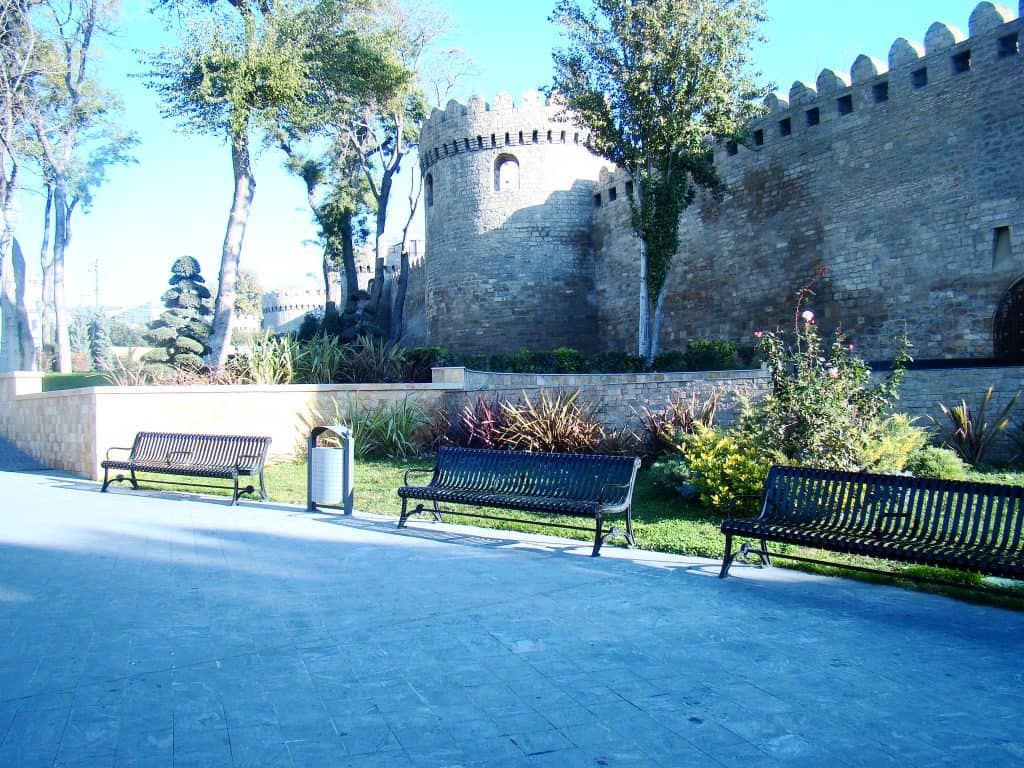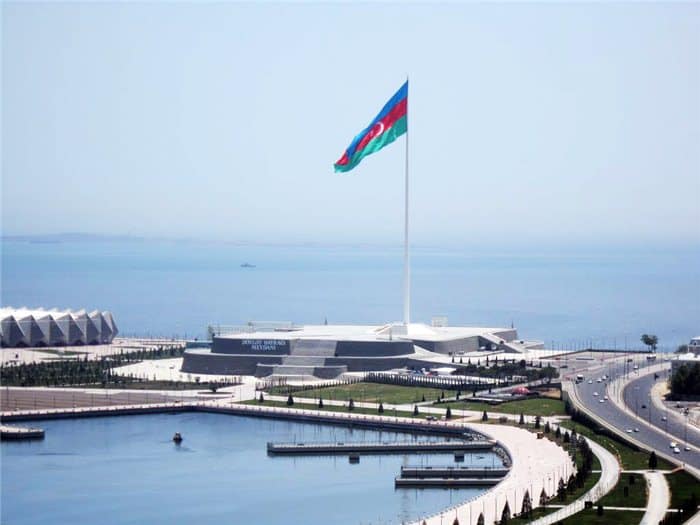 Devlet Bayrak Meydanı: Hazar Denizinin kıyısındaki Devlet Bayrak Meydanında Azerbaycan'ın en büyük bayrağı yer alıyor. Guinness Rekorlar kitabına adını yazdıran bu bayrağın eni 35 metre, boyu 70 metre bayrak direğinin yüksekliği 162 metre, bayrağın alanı ise 2450 m2'dir. Dünyanın en büyük bayrağı Hazar Denizinden esen rüzgârla Bakü'de dalgalanıyor.


Haydar Aliyev Kültür Merkezi (H.Aliyev Cultural Museum): Haydar Aliyev Kültür Merkezi mimarisiyle öne çıkan eşsiz bir tasarım harikası. Ülkede yapılan en önemli kongreler, görüşmeler burada yapılıyor.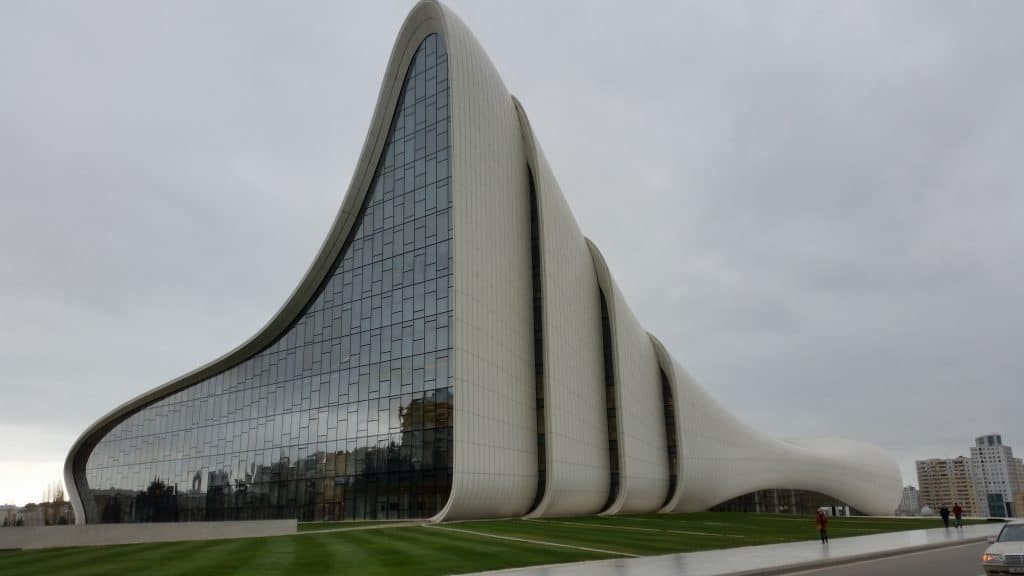 Ateşgah (Fire Temple):
Yanar Dağ:
Gobustan: Azerbaycan'da Büyük Kafkas Dağlarının güney doğusu eteklerinde 4400 hektarlık bir alanda kurulmuş tarihi bir milli parktır. Tarih öncesi çağlardan beri medeniyetlere ait eserler burada sergilenmektedir. Gobustan kaya resimleri açısından oldukça zengin bir alandır. Bunların yanı sıra ilk yerleşim yerleri, mezarlar, kalıntılar da bulunmaktadır. Arkeolojiye ve bu tür tarih öncesi çağlara ait eserlere ilgi duyuyorsanız Bakü'de Gobustan Milli Parkını ziyaret etmelisiniz.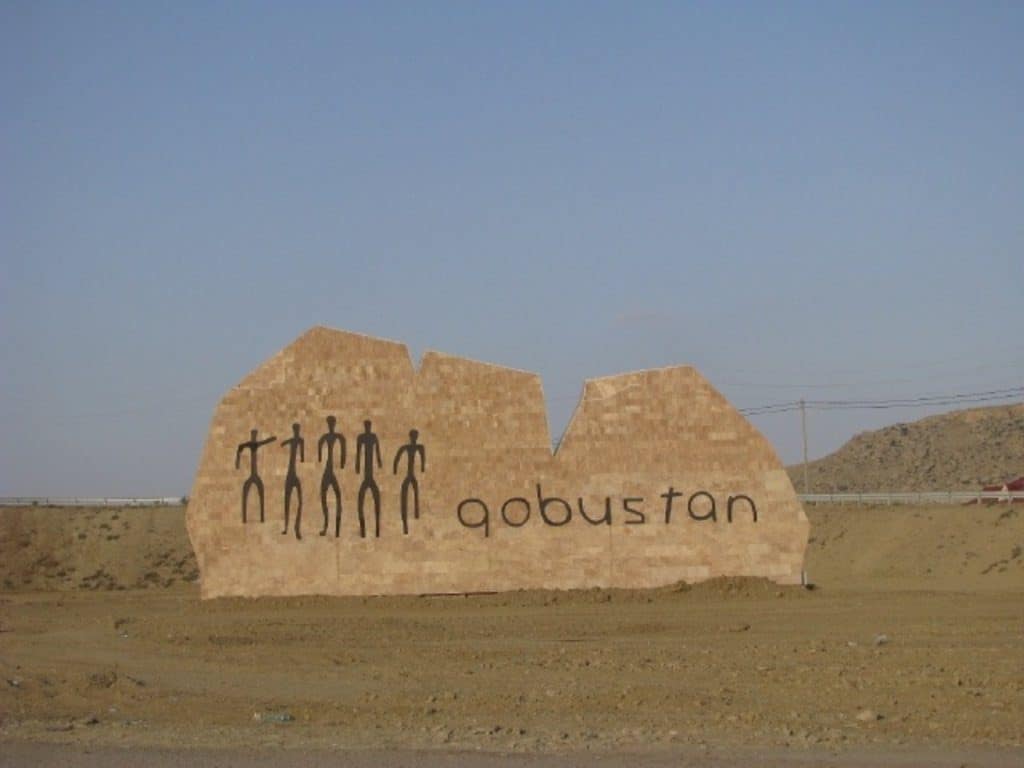 Dağ Üstü Park: Bayrak meydanını, Bulvarı, İçeri Şehri, Targovi 'yi kısaca Bakü 'yü yukarıdan görmek istiyorum diyorsanız Dağ Üstü Park tam size göre. Bu eşsiz manzaraya karşı kahvenizi yudumlayabilir ve anın tadını çıkarabilirsiniz. Dağ Üstü Park, modern yaşamın gürültüsünden uzak ayrıca çok kısa bir sürede ulaşabileceğiniz kadar yakın konumdadır. Bakü'nün eşsiz manzarası karşısında sakinleşmek isteyen ayrıca dostlarınızla güzel anlar paylaşmak isteyen herkesin ziyaret etmesi gereken güzel bir mekandır.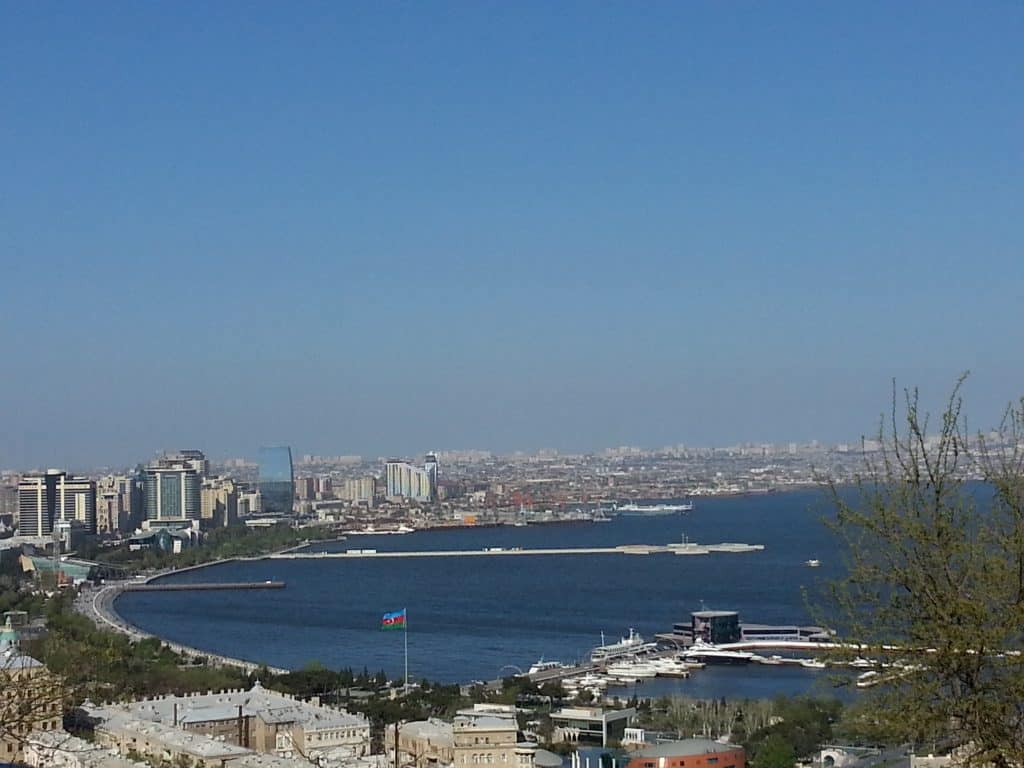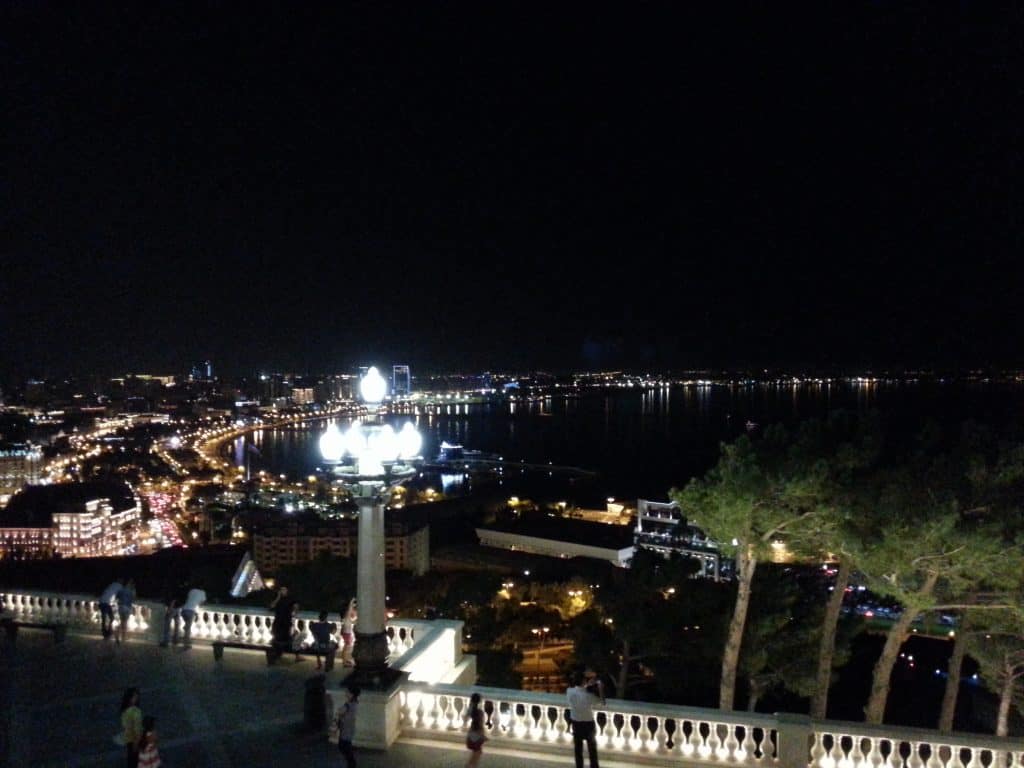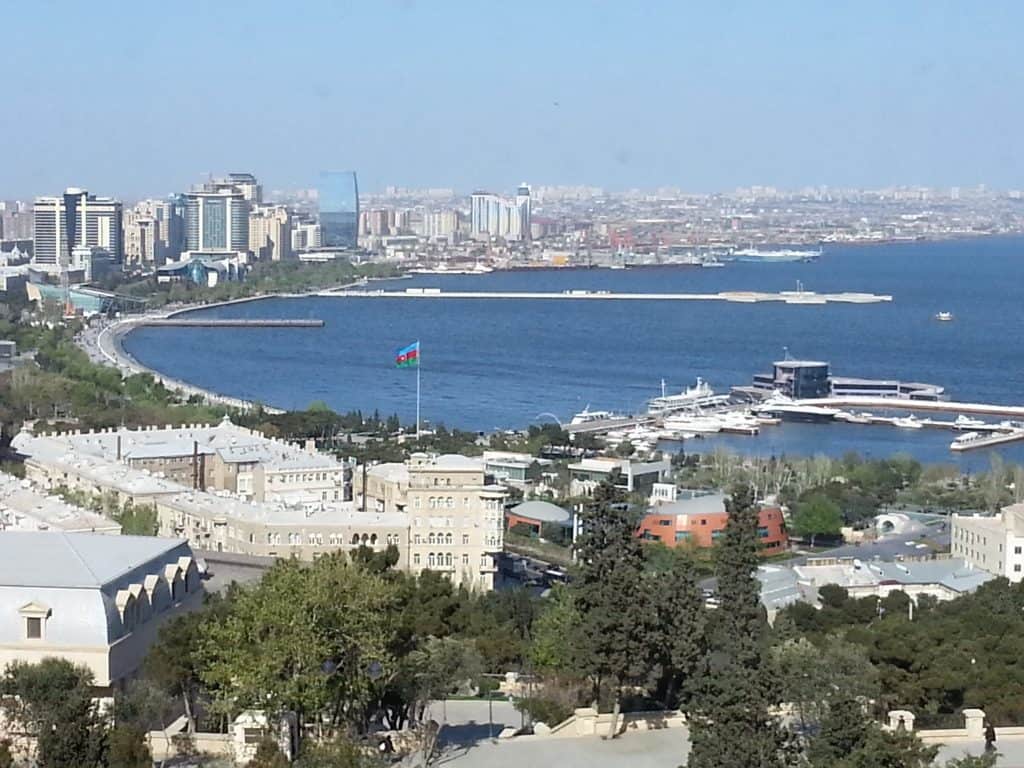 Bakü'de nerede yemek yiyebilirim?
Azeri Mutfağı Türk mutfağı gibi doğu ve batıyı harmanlayan çok zengin bir mutfak kültürüne sahip. Bakünün birbirinden güzel şık mimarisi olan restoranlarına hem bu lezzetleri tadabilir hem de eşsiz müzik sefası yaşayabilirsiniz. Et yemekleri genel olarak Türkiye'deki gibi kebap ağırlıklı. Tike Kebap, Tavuk Kebabı, Lüle Kebabı, Abgust gibi seçenekleriniz var. Şaşlık, Sac Tava da ilave edilebilir. Hamur işi olarak pişirilen yemekler de var. Düşbere, Gürze, Kuymak ve Firni gibi hamur işi yemeklerin tadına bakabilirsiniz. Bu yemeklerin üzerine de Baku Baklavası ve Şeki Baklavası iyi gider :)
Bakü'de Gidebileceğiniz En Güzel Restaurantlar
Şirvanşahlar Müze Restoran, Sheki Restoran, Chanaggala, Mangal Steak Hause, Derya Fish Hause, Zeytun, Mugam Club, Chınar
Bakü'de nerede konaklayabilirim?
Bakü zincir oteller – Hilton, Four Seasons Hotel Baku, Fairmont Baku, Kempinski, JW Marriott Absheron, Park İnn by Radisson, Jumeirah Bilgah Beach Hotel
Yazının oluşmasında ilk elden emeği geçen kıymetli arkadaşım Yegane Guliyeva'ya katkılarından ötürü teşekkür ederim. İçerikte yer alan fotoğrafların temininde yardımcı olan Fatih Özcan'a teşekkür ederim.
T.C. Dışişleri Bakanlığı Bakü Büyükelçiliği: http://baku.emb.mfa.gov.tr/Mission
Artvin Gezisi yazımıza da bakmanızı tavsiye ederim.